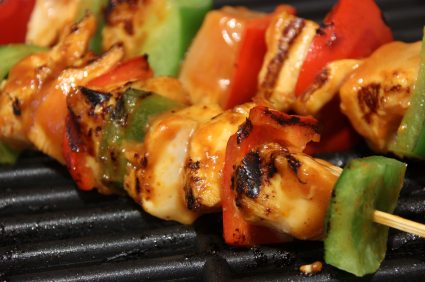 Gluten and Dairy Free
Serves 4
Time to take it to the grill. Enjoy these yummy chicken kabobs. They are quick, easy and always a hit with the family. Be sure to buy as many of the veggies organic as possible as well as choosing organic, free range chicken.
Ingredients
2 Tbsp Extra Virgin Olive Oil (EVOO)
1/2 cup fresh cilantro
1/2 cup fresh mint leaves
1/4 cup extra virgin olive oil
Juice of 1 small lemon
3 cloves garlic
1/2 tsp sea salt
1 lb chicken (cubed)
Selection of Fresh Veggies (zucchini,  peppers, mushrooms, onions)
Directions
Mix cilantro, mint, EVOO, lemon juice, garlic and salt in a food processor. Cut 1 lb of chicken into cubes and add to marinade for 30-60 minutes. Cut fresh vegetables (such as zucchini, peppers, mushrooms, onions) into chunks and alternate with the chicken on bamboo skewers.  Brush vegetables with olive oil and sprinkle with fresh cracked pepper.  Grill for about 5 minutes or so on each side, testing the meat for desired temperature.