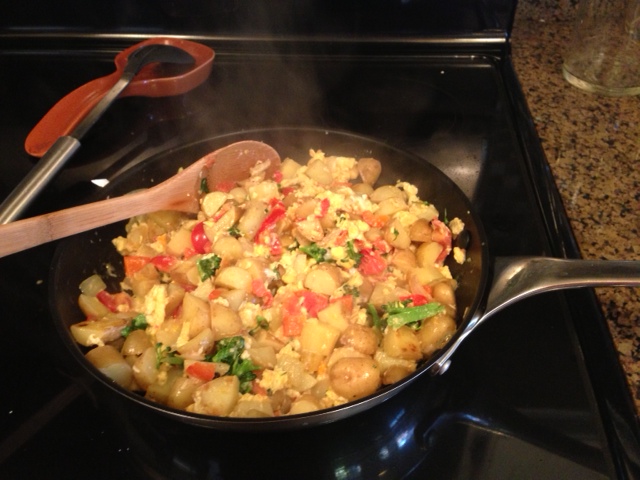 Gluten and Dairy Free
Serves 2 
Enjoy this yummy, high protein skillet for breakfast or anytime. Easy to make and loaded with vegetables too! Something the entire family can enjoy and they won't even realize it is actually really good for them.
Ingredients:
1 tsp coconut oil
1 1/2 cup baby gold potatoes (cubed)
5 eggs (if using egg whites only use 7 eggs)
1 cup cut brocolli (chopped)
1/4 cup white onion (chopped)
1/2 cup cherry tomatoes (diced)
1/2 cup red peppers (diced)
Salt and Pepper for taste
Tabasco sauce (optional)
Directions:
Heat coconut oil in skillet. Add potatoes and onion and cover. Cook stirring occasionally until potatoes are tender.
Add additional vegetables and stir. Cover and cook an additional 3-5 minutes.
Mix eggs in bowl to break up yoke and add to skillet. Stir frequently and add salt and pepper to taste. Cook until eggs are cooked.
Add Tobasco sauce if you want to give a little kick to the dish.