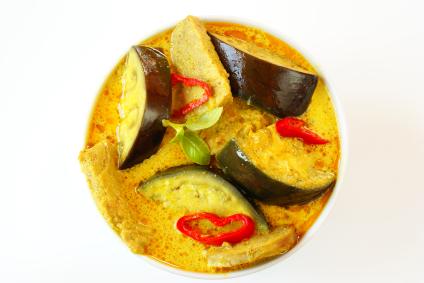 Gluten and Dairy Free (vegan)
Serves 4
If you love curry, you will love this dish. Be sure to buy as many of the veggies organic as possible. You can also add chicken to this dish if you prefer meat in your meals.
Ingredients
2 medium to large eggplant, cubed
1 onion, chopped
3 carrots, chopped
3 celery stalks, chopped
2 cloves garlic, minced
1 Tbsp fresh ginger, minced
1 small zucchini, chopped
1/2 tsp paprika
1 tsp cumin
1 Tbsp fresh or  freeze dried  oregano (or 1 tsp dried)
1/8 tsp cayenne pepper
1/4 tsp ground turmeric
2/4 tsp cinnamon
1 19oz can diced tomatoes with juice
1 cup canned chickpeas with juice
Directions
Sauté eggplant, onion, carrots and celery for a few minutes until almost tender and then add remaining spices. Sauté until the zucchini softens slightly then add tomatoes and chickpeas.
Let cook until bubbly and then pour into a baking dish. Cover and bake at 350F for about 45 minutes. Stir occasionally. Serve the curry over a pile of brown rice.