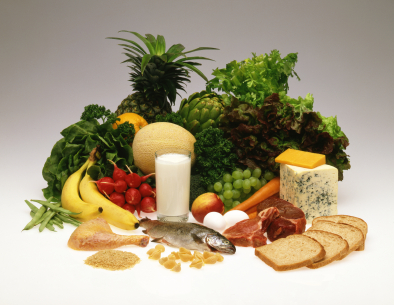 As the first month of the New Year is almost over, many people have begun their new year's resolution, to lose weight and get in shape. Changing eating habits is the first step in getting your body into the shape you desire, and choosing the right foods can be difficult for some.  Each category of food contains a certain percentage of proteins, carbohydrates, fat, and other nutrients, but what are the best foods for weight loss?
Foods containing high fiber are very important when trying burn excess body fat since they are helpful in the functioning of your heart and other organs, and can help lower cholesterol levels.  Below is a list of foods that can help you burn fat, and reach your New Year's resolution in time for summer.
Fruits and Vegetables– Loaded with rich sources of vitamins, antioxidants and minerals, fruits and veggies are always important when trying to lose excess body fat because of their ability to control the right amount of hormonal secretion in the body.

Strawberries, raisins, apples, blueberries and grapefruit

are among a few of the fruits that help burn body fat if eaten on a regular basis. Some vegetables that also work to burn fat are

onions, hot peppers, garlic, beans (kidney and black beans), and asparagus

. Below are some more foods that can help you lose weight and lower your cholesterol to reach your New Year's goal.
Blueberries – blueberries are known to be very helpful in reducing belly fat, and are high in antioxidants. They can also help to satisfy your sweet tooth.
Pears– pears and apples are high in water content, and eating them with the peels for extra fiber will help to keep you full longer.
Honey – honey has the ability to stabilize blood sugar, which can in turn reduce your appetite. You can take a tablespoon of honey with hot water in early morning to get the desired results.
Garlic – Garlic is a natural source of sulphur (in the form of alicin), which is helpful in reducing unhealthy fats. It also contains some antibacterial properties that help to reduce cholesterol.
Nuts- nuts are high in fiber, protein, and heart-healthy fats, so they are an excellent way to keep you full in between meals. The key is to be careful with quantity.
Carbohydrates- include foods like whole grain bread and cereal, wheat products, quinoa etc. Carbohydrates have a good percentage of fiber, which is helpful to reduce cholesterol levels and to burn fat. These foods also contain good digestive properties.
Green Tea: Green tea contains a type of phytochemical called catechins, which can temporarily affect the metabolism. To get the best results, it is recommended to  drink green tea several times a day